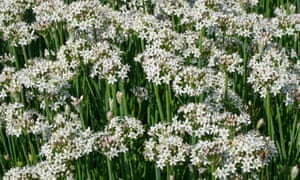 Plant this Garlic chives (Allium tuberosum) are the plant that keeps on giving. Harvest the mildly garlicky leaves, then enjoy the white flowers in late summer through to autumn (they are also edible). This perennial herb needs full sun, and will only die back in harsh winters. Height and spread 30cm x 25cm.
Split this If your rhubarb is huge but not very productive, it's time to split the clump. Dig out the crown and use a pruning saw to cut it into pieces, each bit with a visible growing point; chuck away anything dead or mushy (be brutal). Replant with the top of the crown on the surface of the soil.
Read this Celebrate orchards this weekend by finding your local apple day event at ptes.org. If you can't make it in person, Caroline Ball's new book Heritage Apples (£25, Bodleian Library) tells the story of Britain's love affair with this fruit in lush detail.
As the climate crisis escalates…
… the Guardian will not stay quiet. This is our pledge: we will continue to give global heating, wildlife extinction and pollution the urgent attention and prominence they demand. The Guardian recognises the climate emergency as the defining issue of our times.
Our independence means we are free to investigate and challenge inaction by those in power. We will inform our readers about threats to the environment based on scientific facts, not driven by commercial or political interests. And we have made several important changes to our style guide to ensure the language we use accurately reflects the environmental catastrophe.
The Guardian believes that the problems we face on the climate crisis are systemic and that fundamental societal change is needed. We will keep reporting on the efforts of individuals and communities around the world who are fearlessly taking a stand for future generations and the preservation of human life on earth. We want their stories to inspire hope. We will also report back on our own progress as an organisation, as we take important steps to address our impact on the environment.
You've read 190 Guardian articles in the last two months – made possible by our choice to keep Guardian journalism open to all. We do not have a paywall because we believe everyone deserves access to factual information, regardless of where they live or what they can afford.
We hope you will consider supporting the Guardian's open, independent reporting today. Every contribution from our readers, however big or small, is so valuable.
["source=theguardian"]